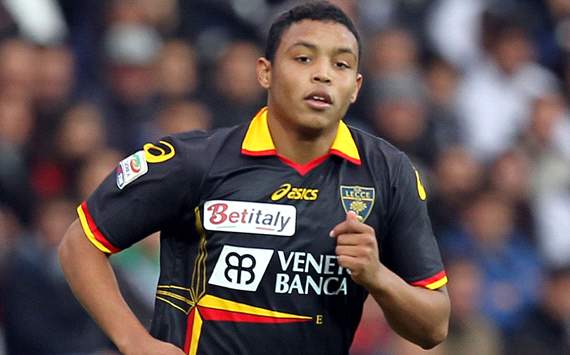 Full name: Luis Muriel
Position: Forward
Age: 20
Birth Date: April 18, 1991
Height: 1.78m
Weight: ? kg
Place of birth: Santo Tomás, Colombia

​
Luis Fernando Muriel Fruto
(born 18 April 1991 in Santo Tomás, Atlantico) is a Colombian footballer. He currently plays for Lecce (owned by Udinese).
Career
Deportivo Cali
Muriel began his career with the youth side of CD Atlético Junior.
In January 2008, he was signed by Deportivo Cali and immediately joined their youth side. After spending a year with the youth side of Deportivo, he was promoted to the Liga Postobon I team. On the 12th of July 2009, he made his debut for his new side against Envigado FC.
Udinese and Granada
On the 22nd of June, 2010, Udinese Calcio signed the 19-year-old Colombian midfielder from Deportivo Cali after he had scored 9 goals in 10 games in the Colombian league. He was loaned to Granada CF of Spain's Second Division to get European experience on 12 July 2010 as Udinese did not wished to spend their no-EU registration quota on Muriel. While at Granada he made seven appearances in total but did not manage his debut goal in European competition. When he returned to Udinese at the end of the season they decided to loan him out again for the 2011-12 season, this time to fellow Italian Serie A side U.S. Lecce. It is because Udinese did not wish to use its own quota on Muriel (and Željko Brkić), so Lecce "signed" Muriel outright from Granada and in January 2012 sold Muriel back to Udinese in domestic, and Udinese formed a new loan deal with Lecce.
Lecce
At Lecce he saw much more of the field despite the jump in quality of leagues, justifying the jump in quality in himself. At Lecce he currently wears the number 24 jersey. He had his debut on 26 October 2011, against Palermo. He scored his first goal on 4 Decembre in 4-2 loss against Napoli.
International career
Muriel played for the Colombian U-20 national team. He scored 4 goals.
​
(All text copied from Wiki)
According to some sources valued to about 8 mln euro, with Arsenal, Juve, Milan, Roma, Barca, Napoli (pretty much everyone/no one) keeping an eye on his progress. Looks like an interesting prospect imo.