So here's the deal. I've been talking some shit about Linkin Park, which Lilianna didn't like, cuz it's her favorite band. So here's a chance for her to talk shit about mine... and if anyone wants to share their opinion (good or bad) about the band (Incubus) you're very welcome
So who's Incubus?
Incubus is an american band from California. The band was formed by the childhood friends Brandon Boyd (vocals), Mike Einziger (guitarist) and Jose Pasillas (drummer). Later on they brought in Alex Katunich (bass) also known as "Dirk Lance". In 1995 they decided to bring on a DJ as well. Gavin Koppel (DJ) joined and spiced things up.
After making it big in 1997 the relationship between DJ Gavin Koppel and the rest of the band fell apart. Gavin left the group and was replaced by the talented Chris Kilmore, who in my opinion can do alot more at the turntables.
This year Alex Katunich (bass) also decided to leave the group. There was no problems, he just had enough and wanted to try something new. So he was replaced by Ben Kenney, who left The Roots for Incubus. A big change in genre you could say... but it seems to be working out.
Band members,
Brandon Boyd, vocals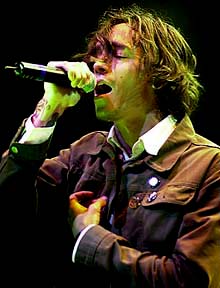 Mike Einziger, guitar
to the right
Jose Pasillas, drums
Ben Kenney (bass)
Chris Kilmore (turntables)
Music,
Some would call Incubus' music "Neu Metal" and those people should be turtured and shot. I have trouble putting them in a specific genre, cuz of their versatility. It's basicly rock music, but with so many twists and turns. Unlike many other bands, all their song differ in some way and I guess that's what make them truely great. Someone who doesn't know them should listen to lets say... "Are you in" and then "Idiot Box", and I would bet that the person wouldn't believe it's the same band.
Albums,
Enjoy Incubus, released in 97'
Incubus released this "album" or should I say EP. It only contained 6 songs... basicly a warning of what's to come
S.C.I.E.N.C.E., released in 97'
The first real album was released. It had a really hard sound to it. Personally I like the later albums more, but there is some good tracks on this though.
Make Yourself, released in 99'
Probably their best album to date. A softer sound compared to S.C.I.E.N.C.E. but in no way to be considered a sell out. Incubus really demonstrated their versatility on this album. They made it "big" with songs like 'Stellar', 'Drive' and 'Pardon Me'.
Fungus Amongus, released in 2000
Incubus picked up the tracks from 'Enjoy Incubus' and enhanced them, then released them again along with 4 new songs.
Morning View, released in 2001
Another great album was released in 2001, and now Incubus really got big... going on world tour and such... I caught their act in Copenhagen and it was awesome! This album contains several hits such as 'Are you in', 'Warning', 'Wish You Were Here' and 'Nice To Know You'.
Upcoming album...
The new album is set to be released early next year. The title is still unknown, but what I do know is this.
The producer is Brendan O'Brien who has worked with bands like Pearl Jam, Rage Againts The Machine, Papa Roach and Train in the past, so it should work out fine.
11 songs is done and there should be 6 or 7 more to go. I've heard bootlegs of 'Megalomaniac' and 'Pistola' and they're both great, so I'm exited. :extatic:
Mike (guitarist) has described the new album like this: "Like the old shit, but older. It's very different. It's very energetic and fast, and a lot of it is more technical, I guess maybe in the vein of more of our older songs...they don't sound like our older songs, but they are more, uh, Exploratory." That sounds great!!! And by listening to the two tracks I mentioned before, his description sounds about right.
Damn, this post is getting long... better stop now.
So that's my favorite band. Do you like 'em, hate 'em or what??? Tell me what you think of them.
Buy on AliExpress.com