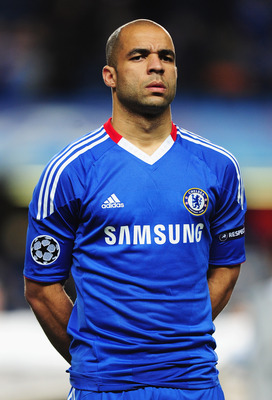 Full name:
Alex Rodrigo Dias da Costa
Date of birth:
17 June 1982 (age 29)
Place of birth:
Niterói, Brazil
Height: 1.89 m
(6 ft 2 1⁄2 in)
Playing position:
Centre back​
Alex Rodrigo Dias da Costa, better known as Alex (pronounced [aˈlɛks]; born 17 June 1982 in Niterói), is a Brazilian footballer who plays for Chelsea and the Brazil national team.
Having been bought by the Premier League club Chelsea in 2004, he was loaned to Dutch team PSV and he won 3 Eredivisie titles with them. Alex finally joined the Chelsea squad in the summer of 2007 after three years on loan to PSV in the Netherlands
Santos
Alex began his career with Santos of Brazil, making his first team debut in 2002. He, Diego, Elano, and Robinho were known as the famous group that played for Santos. He was signed by English club Chelsea in 2004 on the recommendation of famed PSV and Chelsea scout Piet de Visser, but because of potential problems in attaining a work permit, he was loaned out to Dutch club PSV.
PSV (loan)
The joint contract of Chelsea and PSV loaned Alex to PSV for three years, with Chelsea having a €1 buy-out clause. Alex eventually played three years at PSV, donning the number 4 jersey for the Dutch club. While playing for PSV, he earned himself the nickname "The Tank" due to his cannonball-like free kicks and his strong physical stature.
He formally joined PSV in the 2004–05 season, helping the club win a domestic double of both the Dutch Eredivisie championship and Dutch Cup that year. In the UEFA Champions League 2004-05, Alex played a key role in the PSV team that was eliminated in the semi-finals against Milan on away goals (PSV won their home game 3–1 but had previously lost 0–2 in San Siro). The team eliminated Monaco and Lyon on their way to the semis.
Alex won a second straight Dutch league championship in the 2005–06 season with PSV. Chelsea did not recall Alex, even though Abramovich adviser Piet de Visser and Chelsea head of scouting Frank Arnesen recommended that Alex be brought over from PSV to solve the club's defensive problems.Instead, Chelsea manager José Mourinho insisted on the signing of Khalid Boulahrouz instead. Therefore, Alex stayed a third season at PSV on loan in 2006–07. He won a third straight Eredivisie title with PSV, after a dramatic final-day finish to the season in which PSV sensationally trumped both Ajax and AZ. Alex scored in a UEFA Champions League first knockout round against Arsenal for both teams in the second half, turning in an own goal past his own goalkeeper Heurelho Gomes, but compensating for it with a storming headed goal with eight minutes left to play to redeem himself and in the process ensure PSV a place in the quarter finals. However, he was later injured and played no part in PSV's UEFA Champions League quarter-final against Liverpool, which PSV lost 4–0 on aggregate.
Chelsea
2007–08
In an interview with Dutch newspaper De Telegraaf, Alex confirmed that Chelsea were in the process of getting him a work permit and that the possibilities of him joining Chelsea next season were very high. Alex later confirmed that Chelsea had almost completed the process of acquiring him a work permit and that he would start next season as a Chelsea player.
Alex was granted a work permit on 2 August 2007, and completed his transfer to Chelsea after agreeing personal terms and passing a medical, signing a three year deal, and adding to Chelsea's options at centre-back, along with team captain John Terry, Portuguese international Ricardo Carvalho, and Israeli international Tal Ben Haim.
On 14 August 2007, Alex was presented to the English media, in a press conference with manager José Mourinho, and was given shirt number 33. He made his debut on 19 August 2007 when he came on as a substitute for Florent Malouda against Liverpool in the 85th minute, with the teams tied at 1–1. He also played in the 2–0 defeat away at Aston Villa and the 4–0 victory over Hull City in the Carling Cup.
Alex scored his first goal for Chelsea on 20 October 2007, bulging the net from an absolutely stunning free kick 30 yards out against Middlesbrough. He scored another goal from a free kick on 28 November 2007 in a Champions League game against Rosenborg. He then scored in Chelsea's 4–4 draw with Aston Villa, scoring his first goal at Stamford Bridge from an Andriy Shevchenko pass, taking his tally for the season to 3 goals.
2008–09
Alex enjoyed his longest spell in the first team during the 2008–09 season. He was given his chance due to Ricardo Carvalho being injured for long periods of the campaign. He scored Chelsea's 1000th Premier League goal against Sunderland on 1 November 2008. Alex started every game for Chelsea under Guus Hiddink, who managed Alex at PSV and also scored in an FA Cup quarter-final tie against Coventry City.
In the 2009 Champions League quarter-finals second leg at Stamford Bridge against Liverpool, Alex scored a sensational swerving blooter from 30 yards to level the score to 2–2. The game eventually ended 4–4 and Chelsea won 7–5 on aggregate. Chelsea gained a semi-final tie against Barcelona. The first-leg at the Nou Camp ended goalless and in the second leg at Stamford Bridge, Alex played the full match. Chelsea were leading 1–0 up until the 93rd minute when Barcelona scored a dramatic, last-minute goal to draw the game 1–1 and Chelsea went out on away-goals. On 10 May, Alex scored a header in Chelsea's 4–1 Premier League win over Arsenal in the from a Didier Drogba free-kick. The goal was his second against the Gunners in his career.
2009–10
Alex made his first pre-season debut against AC Milan in the World Football Challenge.
Alex had yet to feature for Chelsea in the new season, because he had been out with a groin injury since August 15, 2009.
On October 13, 2009, Alex signed a new four-year contract with Chelsea, keeping him at Stamford Bridge until the summer of 2013.
Alex started his first game of the season in a Carling Cup match against Bolton Wanderers on 28 October 2009 playing the full 90 minutes. On 13 March 2010, he scored his first goal of the season at Stamford Bridge giving Chelsea the lead in a 4–1 league win over West Ham United.
Alex made his first Premier League start of the season against Portsmouth on December 16, 2009.
2010–11
In light of Ricardo Carvalho's departure to Real Madrid, Alex started the 2010/11 season as first choice centre back for Chelsea, alongside John Terry. On 3 October 2010, he scored a 25 yard freekick in a 2-0 victory over Arsenal at Stamford Bridge. On 5 October, he was ruled out for up to three weeks after picking up a thigh injury in the final stages of Sunday's 2-0 win over Arsenal, and subsequently withdrew from the Brazil squad for the friendly matches against Iran, and Ukraine. After he recovered from the injury, it took a goal-costing mistake from David Luiz against Manchester United in the season-deciding match for Alex to break back into the starting line-up, getting substituted on at half time that match, and then starting and playing the full 90 minutes the following match against Newcastle United at Stamford Bridge on 15 May 2011, where he scored a headed goal in the 82nd minute in a 2-2 draw. In the last league game of the season against Everton, Alex started the match alongside John Terry but was substituted on 70 minutes for Paulo Ferreira in their 1-0 defeat at Goodison Park. At the end of the campaign, Alex made 20 appearances and scored 2 goals in all competitions.
International career
Alex made his debut for Brazil on July 17, 2003 against Mexico in 2003 CONCACAF Gold Cup. Although he played under Brazil U-23 team at the tournament, the tournament was a full international tournament, hence the international cap gained was fully recognized by FIFA.
He was overlooked for the 2006 FIFA World Cup squad. However, after the World Cup, he earned regular call-ups with the new head coach, Dunga. He was a member of the Brazil squad that won the Copa América 2007 with a 3–0 victory over arch-rivals Argentina in the final. He was dropped from Brazilian squad to 2009 FIFA Confederations Cup due to injuries.
On 11 May, he was called up to the 2010 FIFA World Cup squad as one of the seven backup players.
Buy on AliExpress.com